Nebraska Minor League Baseball
Omaha
Western League Standings 1930
President:

---

Standings
Wins-----
Losses---
GB
Wichita Aviators
89
56
--
Omaha Packers
76
66
11 ½
Oklahoma City Indians
79
71
12 ½
Des Moines Demons
77
71
13 ½
Pueblo Braves
75
75
16 ½
Denver Bears
74
74
16 ½
Topeka Senators
66
84
25 ½
St. Joseph Saints
53
92
36

---

BA:Forrest Jensen, Wichita, .354
Runs:Carl Frey, Pueblo, 133
Hits:Forrest Jensen, Wichita, 207
RBIs:Stan Keyes, Des Moines, 140
HRs:Stan Keyes, Des Moines, 35
Wins:Charles Wood, Wichita, 22
SOs:Charles Wood, Wichita, 197
ERA:Walter Brown, Oklahoma City, 2.57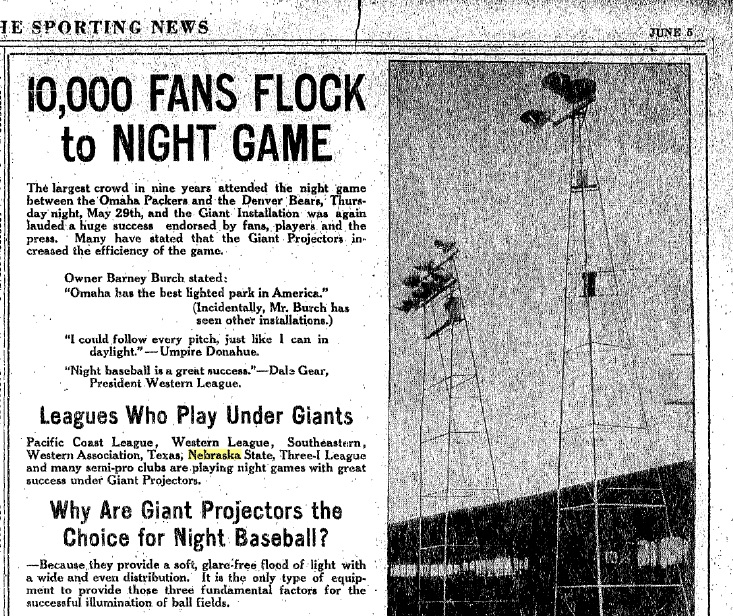 This was the year when Des Moines played the first night game under permanent lights in the professional leagues. Omaha quickly followed suit and the Vinton Street Park was fitted with lights. The first night game in Omaha was played on May 29th against Denver. About 7,000 fans were in attendance for the first night game.

Wichita ran away with the pennant behind the strong pitching of Charles Wood and former Nebraska State League star Andy Bednar. Omaha placed two of their infielders on the all star team and one as the utility player.

Pitcher Dizzy Dean of St. Joseph was on the Western League all star team and went on to a Hall of Fame career at St. Louis. I remember him as an announcer on the game of the week as a youngster. Carl Dunagan, a pitcher for Omaha, hit a home run from both sides of the plate in successive at bats.


Spencer Abbott moved from Pueblo to manage in Omaha in 1930. He started his minor league managing career in Fargo in 1903. He managed through the 1947 season.

Roster:
First base for Omaha in 1930 was held down by Zaepfel he played in 130 games and was second on the team in batting with a .317 average.
---
Western League All Star

In the dirt at second base was J. Faber his good glove and .281 average led him to be picked as a Western League All Star.

Third base for 1930 was held down by another Western League All Star. Hetherly played the position for 121 games and averaged .286. He had led the Western League for Omaha in steals in 1928.

Dewey Bondurant completed the trio of All Stars on the Omaha roster. He played a few games at St. Joe but mostly in Omaha. His .321 average and above average glove led him to be selected as an All Star.
---
Others in the infield included Tierney. He played some games at second and short and averaged .183 for the season. Senne played 12 games at first and averaged .233. Bowman played both in the infield and outfield and averaged .255.
Pete Lepan put on the mask for Omaha in 1930 and averaged .271 with the wagon tongue. I am pretty sure that this is the Pete Lapen who played for Washington in 1922 and 1923. Burns caught for both Omaha and Des Moines and averaged .224.
Outfield:
Allington was a regular in the garden for Omaha in 1930 and averaged .305.
Leonardo Najo played 129 games in the outfield and was the leading hitter on the team with a .335 average. Originally from Nuevo Leon Mexico, he started his professional career in 1924 in Tyler Texas in the East Texas league. By mid season he was playing for San Antonio in the Texas League. He played for San Antonio through 1928, then moved to Omaha for the 1929-1931 season. At the end of 1931 he moved back to San Antonio. In 1932 he split his time between San Antonio and Wichita. He left baseball after the 1932 season. In 1938 he made a comeback, playing for McCallen in the Texas Valley league. He played in 1177 minor league games and averaged .323 for his career.
Others in the outfield included Anderson who averaged .245, Sperber who averaged .220 in 32 games and Honea who tended garden for both Omaha and St. Joe during the year and averaged .290.
Pitchers:
Dunagen led the team in ERA and record with an 18-11 record in 34 games. He also had a .305 average with the bat.
Beck was 4-4 in 10 games.
Bowman pitched in 14 games and had a 6-4 record.
Carlsen was 12-12 in 33 appearances.
Smithson pitched in 24 games and had an 8-6 record.
Barnholdt was 9-6 in 24 games.
Larsen Pitched in 29 games and had a 13-13 record with 129 k's.