Nebraska Minor League Baseball
Nebraska State League
York Dukes 1931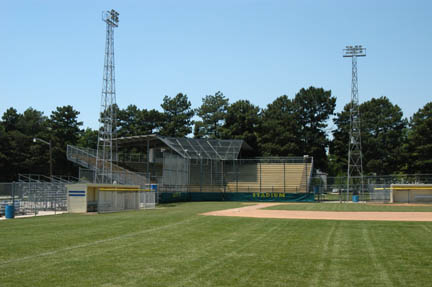 Current Ball Diamond
East Hill Park
York Nebraska
This was the last year for York in the Nebraska State League. The franchise moved to Beatrice in 1932 and minor league baseball never returned to York.
Opening day for the York Dukes at East Hill Park saw the usual ensemble of dignataries and marching bands. York Mayor George Chilcote tossed the first ball and the 134 Infantry Band led the parade to the park. R. C. Russell, president of the league was the guest of Homer Ankeny, president of the York franchise. The game drew 370 paid admissions as Pop Gleasons Dukes took on Les Nunamakers Lincoln Links.
Ladies were admitted free on Wednesdays and for other home games their admission was set at 25 cents. Opening day admission was 50 cents.
The Dukes won the game 9-3 behind the pitching of Lefty McKain. McKain finished the season at North Platte.
The York team had three returning pitchers for the 1931 season and hopes were high for the season. They were disappointed as they were unable to sustain a winning season.
Roster:
Verne Gleason was a regular at second base and averaged .280. He was the manager for the Dukes in 1931.
Holli was a regular at first.
William Seebold returned for the 1931 season. He played in 99 games and averaged .311.
Bob Browne averaged .277 while handling the hot corner.
Nieman averaged .261 in 26 games.
Paul Godsey averaged .252 in 106 games.
Bern Hennessy had played for Norfolk in 1930. In 1931 he was picked up by York. The 26 year old from St. Louis played in right and averaged .291. After an injury cut short his major league aspirations, Bern returned to St. Louis. He is in both the St. Louis Amateur Baseball Hall of Fame and the St. Louis Soccer Hall of Fame.
Earl Traul played in 57 games and averaged .324.
Bennie Warren was the regular catcher and averaged .275. The 19 year old from Elk City Oklahoma played for York and Oklahoma City in 1931, Lincoln in 1932, Norfolk, Lincoln and Chattanooga in 1934 and Beatrice in 1935. He played through the 1954 season.
Pitchers:
Glenn Rickey returned for the 1931 season. He had a 9-8 record and was picked up by Oklahoma City of the Western League at the end of the season.
Earl Langkop also returned for the 1931 season. He had a 10-12 record.
Tom Railsback was the third returning pitcher for the Elks. He managed a 9-13 record and was also sold to Oklahoma City at the end of the year.
Kaeding had a 2-3 or 3-4 record depending on the source.
Lippold had a 6-11 record.
Nebraska Minor League Baseball Home