Nebraska Minor League Baseball
Beatrice Milkskimmers 1912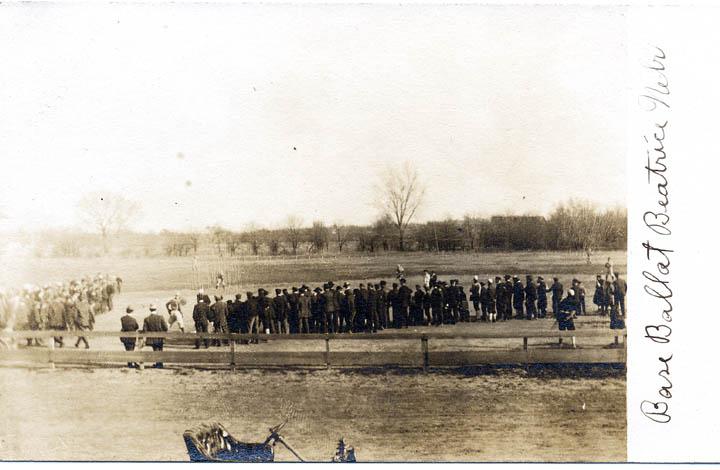 Real Photo Post Card
Beatrice Baseball circa 1910
In 1912 the Beatrice Milkskimmers entered the MINK league replacine Clarinda Iowa. The team had a few holdovers from the Clarinda aggregation but was basically built from scratch. They played a number of their games in Fairbury.
They ended the year with forty two wins and fifty nine losses placing them twenty games out of first and in fifth place in a six team league. The team folded at the end of the year and the league folded in June of 1913.
Beatrice would reappear in minor league baseball in the middle of the 1913 season as they took over the Seward franchise. The town of Seward had experienced extensive damage during a spring tornado. As the town was rebuilt interest in baseball lagged and the franchise moved to Beatrice.
Regulars:
First Base was held by a number of people during the year. Charles Farley was a good fielding light hitting regular at the spot. In 197 at bats he managed a .233 average. In 1913 he moved to Grand Island in the Nebraska State League.
Second Base was another light hitter. Gus Wisser was their regular at second and averaged .212 for the season. He started in 1904 in the Western League with St. Joseph and played in the Western Association, American Association and Wisconsin Illinois League before playing in the MINK.
Charles Melker held down the third sack for the Milkskimmers. He batted .233 for the season.
W. Smith was at short and batted .212 for the year.
Jess Darrow was the regular catcher. He was also a light hitter and batted .180 for the season.
The outfield saw Beb Martin, S. Hodges and Williams for the franchise with Beb Martin the only one hitting over .250 with a .281 average. this was the leading average on the team.
Of the three pitchers listed in the Spalding Guide not one had a winning record. Beltz was 13-14, L. Fucich and Russell Routt were 5-7 for the Beatrice Milkskimmers in 1912. Russell also played for Wichita in the Western League and was 3-6 in 20 games during the season.