Nebraska Minor League Baseball
MINK League
Falls City Colts 1912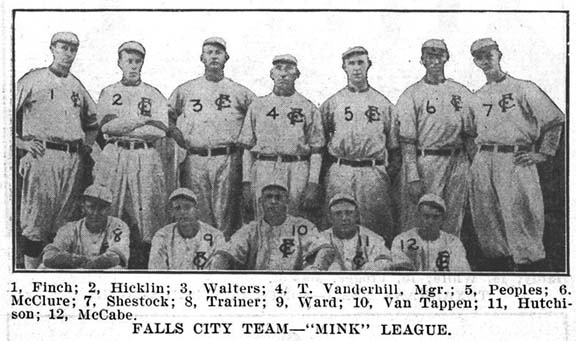 The Falls City Colts was one of the original franchises in the MINK league in 1910. They were second in 1912 Summary here
Roster:

First base was held down by Robert McCabe. He batted .268 for the 1912 season.

Peoples held down second bag and maintained a .257 average.

Third base was handled by Charles Ward. The 17 year old from St. Louis batted .264 for the year. He played for Grand Island in the Nebraska State League in 1913 and 1914 and Portland in the Pacific Coast League in 1915 and 1916. In 1917 he made it to the show with Pittsburg. From 1918 through 1922 he played for Brooklyn. He then went back to the minors, playing for Reading and Toledo before hanging up his spikes.

Short stop VanTappen .247 average.

Catcher Shestack .264 average.
Outfield: Hicklin .313 average, Trainor .241 average, Hutchison .163 average.
Pitchers: Walters 21-10 record with 154 strike outs. Finch 11-6 record. McClure 7-6 record with 92 k's, Dull 9-9 record.
Nebraska Minor League Baseball Home