Nebraska Minor League Baseball
MINK League
Humboldt Infants 1912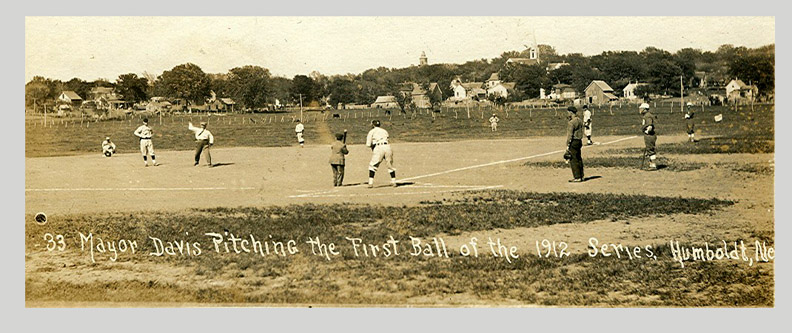 Image courtesy Dan Bretta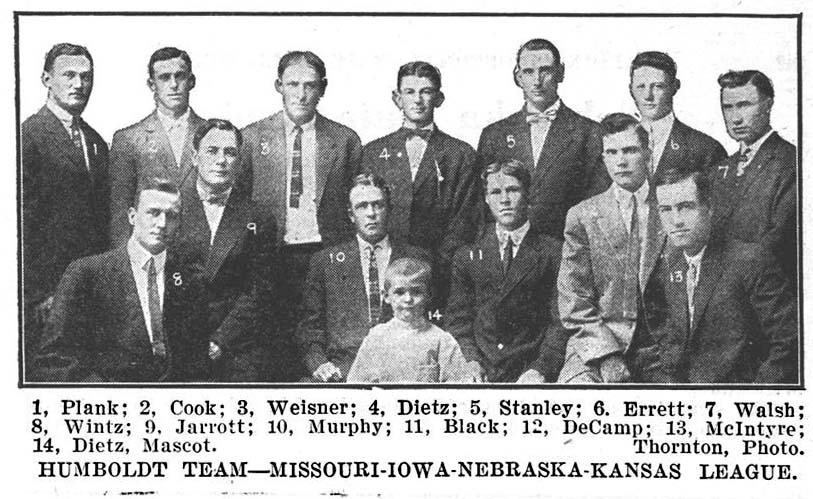 After winning the championship in 1911 there was a great optimism in Humboldt for 1912. The reality was that the other teams had improved for 1912 while the Infants had not. The result was a 4th place finish 44-57 for the season and 18 games out of first place.
Yearly summary goes here.
Roster:
McIntyre played first base for the Infants. He batted .177 for the year.
Bulger Walsh 2nd base, .313 average.
Joseph Wintz 3rd base, .292 average.
J. Murphy Short stop, .304 average.
Benjamin Dietz Catcher, .278 average.
Homer Black Outfield, .308.
Gus DeCamp Outfield, .255.
Claude Cook played for three years for the franchise. He started with Maryville in 1910 and averaged .325, In 1911 he averaged .301 as the franchise moved from Maryville to Humboldt. In 1912 he played in the outfield and averaged .220.
Jerrott was by most measures the best player on the team. He carried a .324 batting average and was 14-9 as their leading pitcher.
Jay Errett was their second leading pitcher with a 13-10 record. He led the Infants with 111 strike outs.
E. Stanley is the only other pitcher listed in the Spalding guide. He was 3-2 for the year.
Nebraska Minor League Baseball Home