Nebraska Minor League Baseball
Nebraska State League
McCook Generals 1928-1932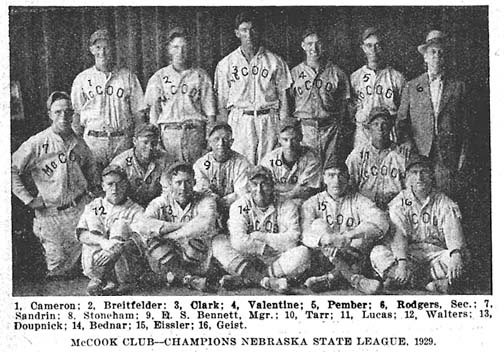 As the Nebraska State League restarted in 1928, McCook was one of the leading franchises. The 1928 Generals were managed by Doc Bennett and they easily took the pennant in 1928. They also had the leading attendance in the league with 14,552 fans pushing the turnstiles. I believe they played their games at East Side Ball Park which is now the site of Felling Field. Harlan Pyle from Liberty Nebraska was an all star pitcher for the Generals. Victor Schiell and John Stoneham joined Pyle on the all star team.
The Generals repeated as league champs in 1929. John Stoneham led the team. He played for the White Sox in 1933.
Threepeat. The Generals won the league by 17 games. Mke Kreevich led the league in home runs. McCook sold him to Des Moines for 1931. He made it to the Cubs at the end of the year and played in the big leagues for 12 seasons.
McCook fell to second place in 1931. They were led by Harry Matuzak, who went 16-5. Harry had a cup of coffee with the Athletics in 1934.
The last year for the Generals in this iteration of the Nebraska State League was 1932. They were not competitive and finished in last place.