Nebraska Minor League Baseball
Omaha Municipal Stadium
Rosenblatt Stadium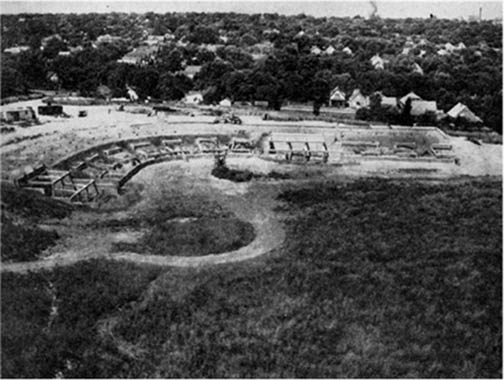 Omaha Municipal Stadium
Construction Photograph
After League park on 13th and Vinton burned down in 1936, Omaha was left without a stadium. The team moved to Rock Island to finish the season and Omaha was without minor league baseball until after World War II.

In 1945 Omaha voters approved a $480,000 bond issue to build a baseball stadium. A 40 acre parcel which overlooked Riverview Park was chosen as the site of the stadium. The parcel had been purchased for $17.00 at a tax sale.

A second bond issue of $290,000 was needed to complete the stadium. The original brick facade in the design was dropped for less expensive concrete. The stadium was completed in the fall of 1948.

Omaha Municipal Stadium
1955 Postcard
In the fall of 1946 the Western League was revived with Omaha as one of the six charter members of the league. North Omaha residents fought plans to convert Fontenelle Park into a baseball park so the Cardinals played their home games at Legion Park in Council Bluffs for the 1947 and 1948 season.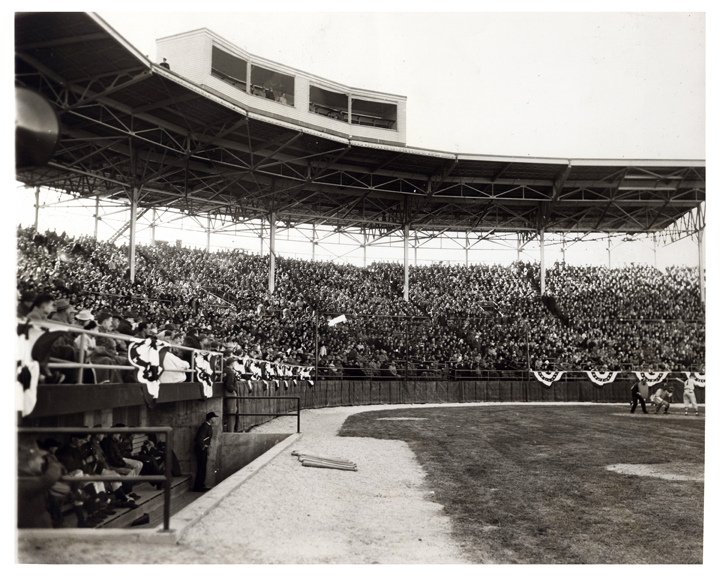 Opening Night
October 1948-
The stadium was completed in the fall of 1948. The inaugural event for the stadium was an all star squad versus a local Storz Brewery team. Mayor Glen Cunningham did the ceremonial first pitch and Richie Ashburn drove in two runs and stole two bases.
Omaha was selected as the host city for the 1949 and 1950 American Legion World Series. Both years the championship was won by a team representing Oakland California (post 337). The 1950 runner up was from St. Louis while the 1949 second place team was from Cincinnati Ohio.
Opening day for the class "A" Omaha Cardinals at Omaha Municipal Stadium was April 25, 1949. The Cards beat Des Moines 9-8 in 12 innings in front of 9,416 fans.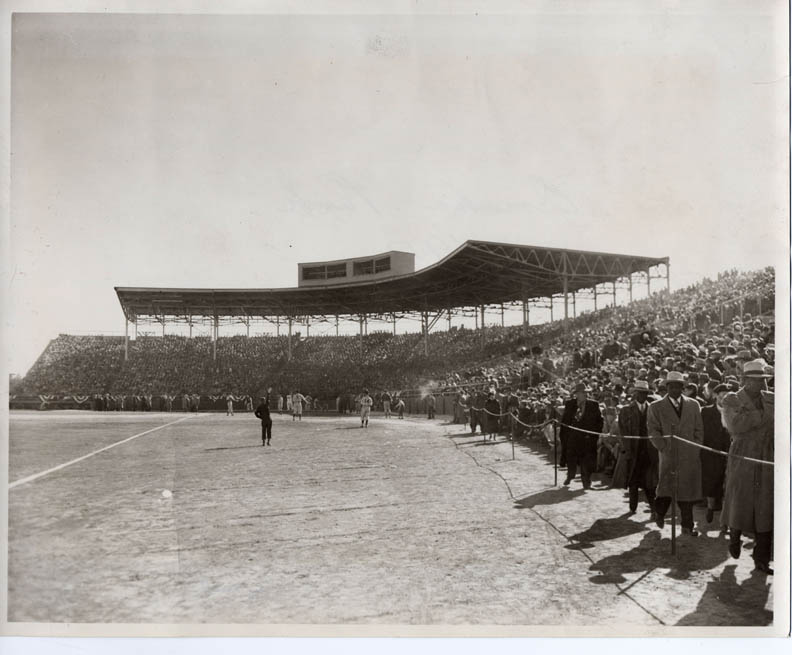 Omaha Municipal Stadium 1951-
The stadium was the home of the Western League Cardinals from 1949 through the 1954 season. In 1955 Omaha moved to the "AAA" American Association. The stadium was the home of the "AAA" Omaha Cardinals from 1955 through the 1959 season. The Omaha Dodgers called the stadium home in 1961 and 1962. In 1963 the American Association is disbanded and Omaha is without minor league baseball until 1969. In 1969 the American Association is resurrected and Omaha starts a relationship with the Kansas City Royals that lasts to this day.

In 1964 the stadium is renamed Johnny Rosenblatt Stadium for the former city council member and mayor who was instrumental in bringing "AAA" baseball to Omaha and who led the team that resulted in the stadium being built.

Omaha Municipal Stadium
1964 Postcard
In 1950 the NCAA division I "College World Series" was held at the stadium. Omaha has been the home of the College World Series since then.
Between 1979 and 1999 the city of Omaha spent over 20 million dollars refurbishing the stadium. Recently the city decided to build a new home for the College World Series. Rosenblatt's days are numbered.
Current stadium configuration has dimensions of 408 ft. to center, 335 ft. to left and right foul poles and 375 ft. in the power alleys. The stadium has a capacity of 23,100, making it one of the largest minor league parks in the country.
Stadium Capacity, Size, ticket prices and attendance tables from 1949 to the present.
Baseball Fields of Nebraska Home
Nebraska Minor League Baseball Home
© 2009 Bruce Esser