Nebraska Minor League Baseball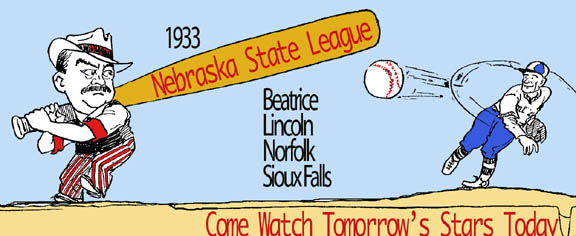 The Nebraska State League was resurrected in 1928. It was a class "D" league. Minor league structure during this time included "AA", "A", "B", "C" and "D" leagues.
In 1933 the league contracted to a four team league with Grand Island, McCook and North Platte dropping out and Sioux Falls South Dakota joining the league. The league tried to add a franchise in Council Bluffs but James Beltzer was unsuccessful.

The league was in financial difficulty and it looked like they would not finish the season. The St. Louis Cardinals came to the rescue by offering $2,000 to each team. In exchange, they would have the rights to two players from each team or eight players in total. In 1934 the Cardinals had rights to as many players as they wanted. Kenisaw Landis did not like this arrangement and was firmly opposed to the farm systems being set up by the Cardinals. In 1935 he ruled that arrangements like the one the Cards had with the NSL would no longer be allowed. The Cardinals responded by signing 23 of the 52 players in the NSL in 1935.

The league reduced maximum salaries to $50.00 per month for players and $200 per month for managers. Admission was also reduced to 35 cents in an attempt to get through the worst of the depression.

The season started on May 15th and closed August 27th. The St. Louis Cardinals contracted with the league to have first choice of any players developed in the league. The Cardinals agreed to offer contracts to at least four players.
The league kept their split season structure. Norfolk won the first half with a record of 34-18. Beatrice won the second half at 33-18. Sioux Falls came in second for both halves (29-24 and 28-15). Lincoln brought up the rear during both halves of the season. Beatrice defeated Norfolk in the playoffs.

Don Gutteridge 1933
Image Courtesy Dan Bretta
Nebraska State League 1933
President: James Beltzer

Standings
Wins---
Losses-
GB
Norfolk Elks
60
45
--
Beatrice Blues
60
46
½
Sioux Falls Canaries
57
49
3 ½
Lincoln Links
34
71
26

---

Playoff:Beatrice 5, Norfolk 4

---

BA: Don Gutteridge, Lincoln, .360
Runs: Larry Getz, Beatrice, 100
Hits: Ray Bertram, Norfolk, 152
HRs: Howard Moore, Beatrice, 19
Stolen Bases: Larry Getz, Beatrice, 55
Wins: Wilmer Schroeder, Sioux Falls, 20
SOs: Mike Pociask, Beatrice, 195
ERA: Stan Conaway, Sioux Falls, 2.43
Cotton Pippen, the hero of the 1932 playoffs also won a playoff game for Beatrice in 1933. He also had two home runs in the second and sixth innings of the game to help his own cause. Larry Getz led Beatrice in the field, batting .301, scoring 100 runs and batting .309 for the year. Mike Pociask had 195 strikeouts in 238 innings and a 19-6 record for Beatrice.
Don Gutteridge was an all star second baseman for Lincoln. He started the year with Hartford but when that league folded he caught on with Lincoln in the NSL. The twenty one year old from Pittsburg Kansas led the league with a .360 batting average. His contract was purchased by St. Louis before the season was over. He made his major league debut in 1936 with the Cardinals and played until 1948 with four different teams. In 1952 he was the manager of the Colorado Springs Sky Sox, a White Sox farm team, in the Western League.

Don Gutteridge
1944 Play Ball Card --
1983 TCMA Card as there was no Play Ball Card in 1944

Howard Moore, all star at third base for Beatrice hit .349 for the year and was bought by the St. Louis Cardinals before the end of the season.
Nebraska Minor League Home