Wakefield Nebraska
Eaton Field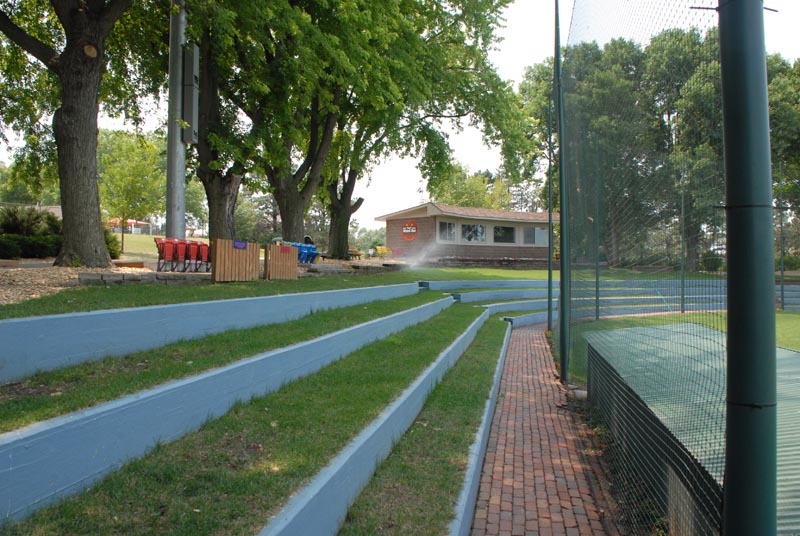 Wakefield Nebraska is a town of about 1,500 people in Northeast Nebraska. In 1996, then governor Ben Nelson proclaimed that Wakefield is the "Baseball Capital of Nebraska". Eaton field is one of the most unique venues to watch baseball that you will find anywhere. The playing field is in excellent shape and the spectators have a number of unique places where they can watch the game.

The main seating area are three grassy berms behind home plate. Behind the three rows of grass are a number of stadium seats acquired from various historical ball parks across America. You can watch a game sitting in a seat from Atlanta's Fulton County Stadium or Wrigley Field. All around are small flower gardens and behind is a stand of mature trees providing natural shade to those watching the game.

Along the third base line is a patio with three flag poles, a gaggle of fountains and a number of flower gardens. Just beyond that are four seats that come from Wrigley field. Past the special Wrigley seats is a large wooden deck with picnic tables and a concession stand behind.
One of the more unique features of the park is the hanging flower baskets along the retaining wall by the patio with the three flag poles. If you look closely you can see that baseball's are used to hold up the hanging baskets. This is a park with amazing attention to detail.
Down the first base side are seats from Atlanta Fulton County Stadium, Milwaukee County Stadium, Anaheim California and Rosenblatt. These are located behind and next two the grassy berm seating area. ]

A little further down the first base side is another large wood deck with picnic tables.

Wakefield has a tradition of excellence when it comes to baseball. While the Northeast part of Nebraska has always been known for its excellent baseball, Wakefield takes it to a new level.

The town hosts a wood bat tournament in June. While the featured stadium is Eaton Field, the park has a number of other excellent diamonds also. It is rare to see such an excellent ensemble of diamonds in a town of this size.

Wakefield obviously takes pride in its baseball and it shows in this park.

The park does have some quirky dimensions as the left field fence is 400 ft from home plate. By center field the fence is only 380 ft. and by the time you get to the first base foul pole it is only 335 ft. A lot of left field garden to tend here.
---
Baseball Fields of Nebraska Home