Wayne Nebraska
Hank Overin Field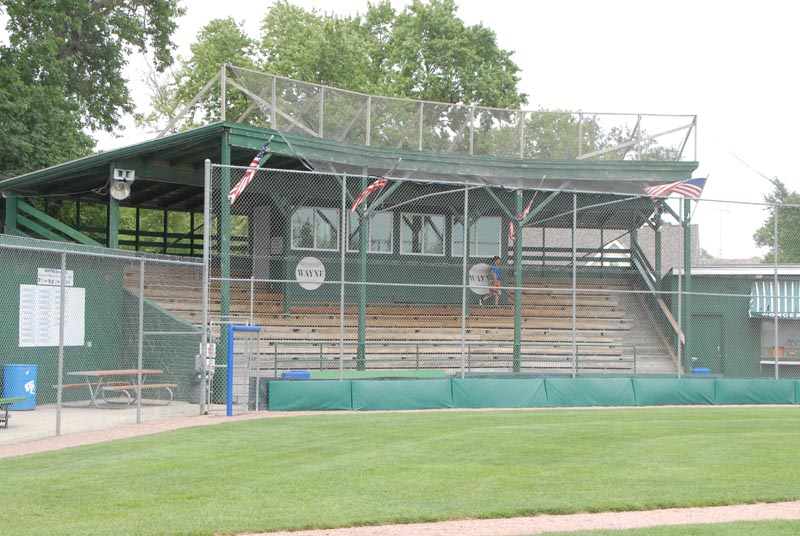 Wayne Nebraska is a town of about 5,000 people in Northeast Nebraska. The town is the home of Wayne State College. Hank Overin Memorial Field is the current home of the Wayne legion teams and features a well kept wood grandstand. No popup bleachers here you watch the game in an honest to goodness wood grandstand.
Approaching the stadium you encounter a couple of masonry columns with a "W" on them, a park bench and the back side of the wooden grandstand

As you enter the stadium you are greeted by a number of colorful sponsor banners. You can enter the grandstands or take a seat in another set of covered bleachers along the third base line. The concession stand is to the 3rd base side of the grandstand between the grandstand and bleachers.

Their legion team has a history of excellence with numerous state championships to their credit.

The park is well maintained and the playing surface looks excellent. There is a sign reminding people of the two worst enemies of wood grandstands everywhere, baseball spikes and smoking. The Wayne legion program is known for its excellence and has many players playing at the next level. They also have a number of legion state championships. Northeast Nebraska is known as a hotbed of baseball and Wayne is one of the reasons why.
---
Baseball Fields of Nebraska Home