Nebraska Minor League Baseball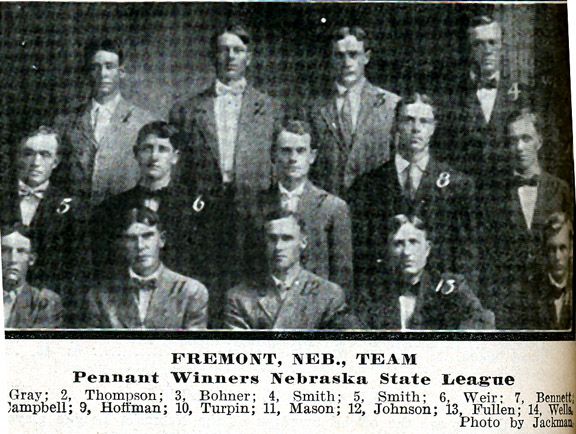 The first Nebraska State League started in 1910 and disbanded in 1915. It was a class "D" league. During this time there were classes "A", "B", "C" and "D". There were 34 minor leagues in existance in 1910.

President Henry Sievers of Superior witnessed the opening game at Fremont and then made the rounds of the league cities. Although some sources listed Henry as being from Grand Island, both the Grand Island paper and the Superior Daily Express indicated that he was from Superior. He was paid $500.00 for his duties and was expected to pay his own travel expenses.

The league rules stipulated that teams could carry no more than twelve players exclusive of the manager after May 28. The league schedule included 112 games and the teams were restricted to a payroll of $900.00. Travel between cities in the league was by train. A hotel room ran about $2.00 per night and gas was about 16 cents a gallon.


One of the issues was the playing of baseball on Sunday. In 1903 the Nebraska Supreme Court ruled that playing baseball was a violation of the state statute prohibiting "sporting" on the Sabbath. It was a reaffirmation of a ruling made in 1893. This resulted in four players in Nebraska City spending ten days in jail.


By 1910, Grand Island, Fremont and Columbus allowed baseball on Sunday. Other teams played their Sunday games in nearby towns which allowed Sunday ball. Grand Island made money by hosting games for teams which could not play on their home fields on Sunday. The league ruled that Grand Island would get 10% of the gate for these games. In July, Justice Gladwish had the Red Cloud and Seward teams arrested for playing ball on Sunday. The two teams had played the game in Staplehurst, a town which did not enforce the Sunday baseball laws, but the Judge decided to prosecute the case on his own.



Nebraska State League
Standings 1910
President: Henry Sievers

Standings
Wins---
Losses-
GB
Fremont Pathfinders
63
43
--
Columbus Discoverers
59
48
4 ½
Kearney Kapitalists
60
51
5 ½
Grand Island Collegians
60
52
6
Superior Brickmakers
56
54
9
Seward Statesmen or White Sox
50
62
16
Red Cloud
47
62
17 ½
Hastings Brickmakers
42
65
21 ½

---

BA: Fred Jarrott, Red Cloud, .326
Runs: Leo Cook, Hastings Third Citys, 88
Hits: Fred Jarrott, Red Cloud, 126
HRs: Fresco Thompson, Fremont Pathfinders, 10
SBs: Archie Turpin, Fremont Pathfinders, 75
Wins: Winifred Noyes, Kearney Buffaloes, 24
SOs: Winifred Noyes, Kearney Buffaloes, 323
Pct: Frank Green, Kearney Buffaloes, .900, 9-1
The Seward Independent Democrat called the Seward team the "White Sox". Other baseball historians call them the Statesmen. The Red Cloud franchise was called the Indians by both the Fremont and Kearney newspapers. Most other references do not list a nickname for the team.
At the end of the year Buck Beltzer who played for Grand Island was sold to the Philadelphia A's (AL) for $300.00. Buck played third base for Grand Island. He played in 105 games and a .205 average. Schoonover was also drafted.
Win Noyes a 19 year old pitcher from Pleasonton Nebraska, started the 1910 season with Kearney. He was their leading pitcher, tossing a no hitter against Superior and led the league in wins and strike outs. He had 323 k's for the year and only 92 walks. He debuted in the major leagues in 1913, pitching for the Boston (NL) team. In 1917 and 1919 he pitched for the Philadelphia (AL) major league team. Lifetime he pitched in 49 games with a 11 win 15 loss major league record.
Harry Smith a pitcher for Fremont was a 5'9" nineteen year old from Union Nebraska. Harry had a 15-10 record with Fremont. He was second in the league behind Win Noyes in strikeouts with 238 k's for the year almost a hundred behind Noyes. He had two no hit games, two one hit games and only lost one game the last two months of the season. The game he lost was 1-0 in 17 innings. He was sold to Lincoln of the Western League at the end of the season. He pitched for Fremont again in 1911 and for Lincoln in 1912. He made it to the American League Chicago White Sox in 1912. He pitched five innings and had a record of 1 win 0 losses. Harry died in Dunbar Nebraska in 1964.
Clarence Mitchell was a nineteen year old pitcher from Franklin Nebraska who started his professional career with Red Cloud in 1910. He had a 14-13 record with Red Cloud with 195 strike outs and only 46 walks. The 190 lb lefty made his debut with the Detroit Tigers in 1911. He spent eighteen seasons in the major leagues playing for six different teams. His career record was 129 wins and 139 losses in 390 appearances.