Nebraska Minor League Baseball
Nebraska State League
1914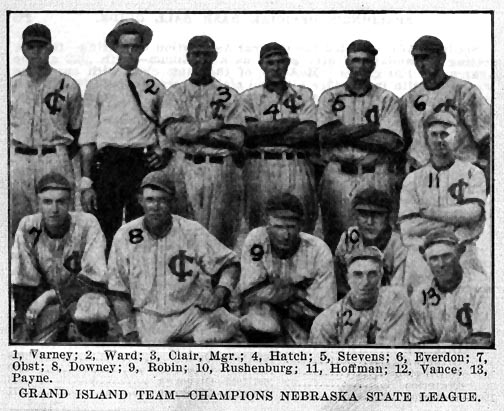 The first Nebraska State League started in 1910 and disbanded in 1915. It was a class "D" league. During this time there were classes "AA", "A", "B", "C" and the lowest class was class "D". There were 43 minor leagues in existance in 1914.
Nebraska State League
Standings 1914
President: Clarence Miles

Standings
Wins---
Losses-
GB
Grand Island Islanders
66
46
--
Beatrice Milkskimmers
65
47
1
Hastings Reds
64
48
2
York Prohibitionists
60
52
6
Superior Brickmakers
54
58
12
Norfolk Drummers
52
60
14
Columbus Pawnees
49
63
17
Kearney Kapitalists
38
74
28

---

Norfolk bought the Fremont franchise in 1914.

---

BA:Jacob Bettman, Hastings Third Citys, .336
Runs:Clint Neff, Beatrice, 80
Hits:Charles Payne, Grand Island Collegians, 134
HRs:Clint Neff, Beatrice, 21
Wins:John McDonnell, Beatrice, 21
SOs:Dazzy Vance, Hastings, 194
The Fremont franchise moved to Norfolk in 1914. The franchise flourished in Norfolk, a strong baseball town. Fremont never returned to the professional ranks as future iterations of the Nebraska State League did not include Fremont. Grand Island, Beatrice and Hastings fought for the title until the final games. Grand Island made a final surge and finished the season one game ahead of Beatrice.

Dazzy Vance began his career with the Superior Brickmakers in 1912. On September 2nd he pitched a five hitter in the first game of a double header as Superior defeated Columbus 4 to 1. He then pitched the first five innings of the second game getting the win 7 to 4. In 1914 he pitched for the Hastings team and led the Nebraska State League in strikeouts.

Clint Neff started in the Nebraska State League as a catcher with the Seward club in 1910. His best year was 1914. Playing for Beatrice he led the league in runs scored and home runs.

After starting his career in late 1913 Edward William "Glass Arm Eddie" Brown became a regular in 1914 with Superior. He averaged .298 in 113 games. In 1915 the Milligan Nebraska native played for Fairbury until the league collapsed. He played for Mason City, San Antonio and Indianapolis in the minor leagues. he made his major league debut with New York (N) in 1920 and played for three different teams in his seven year major league career.

Dazzy Vance
Brooklyn Dodgers